Stay up to date on the latest features, news, events and Campaign information by subscribing to the Arts & Science Alumni + Friends E-News, distributed three times a year to over 100,000 alumni and friends.
Events listed below are coordinated by the Arts & Science Alumni Office as well as by various Arts & Science academic units.  For a list of general U of T alumni events, please see the U of T Events Calendar.
b2B Industry Night – Careers in Law (2019)
November 21 @ 6:00 pm

-

8:00 pm
Thinking about a career in law? Curious as to how to plan your path forward and connect your current studies with a job after graduation? Join us on Thursday, November 21, 2019, when alumni and students will mix and mingle for a very special b2B.
Careers in law span many areas and offer a variety of career options after graduation. The skills you gain from your Arts & Science degree can be transferred into many opportunities in these fields. This networking reception will be a great opportunity to make these connections and speak with multiple alumni who graduated from the Faculty of Arts & Science and have gone on to pursue a career in law, as well as with fellow U of T students who are also considering this path.
Description
The b2B Industry Night focuses on careers in a specific industry, and offers an opportunity for students to engage with alumni who graduated from the Faculty of Arts & Science, and who are now working in various fields.
Event Objectives
Connect students, recent grads, and alumni who are interested in a career in a particular field.
Encourage conversations about how an Arts & Science education contributes to a career in the field.
Explore career options in order to support a successful transition after graduation.
Develop and expand your professional network.
Build awareness about the realities of a career in the industry and potential paths to get there.
Discover a variety of career stories.
Agenda
Time
Activity
5:30 pm
Alumni are invited to arrive, register and mingle.

Refreshments will be provided throughout the evening

6:00 pm
Students arrive and register.
6:15 pm
Opening remarks

Networking event officially begins

8:00 pm
Networking event officially concludes
Event Audience
The b2B Industry Night attendees include students and recent graduates at various stages of their education and career, as well as Arts & Science alumni, including:
U of T Arts & Science Alumni currently working in the industry
Undergraduate students who are considering a career in the industry and want to learn how their studies will support them beyond graduation
Graduate students (MA, MSc, PhD) who are interested in exploring careers in the industry
Recent graduates who are looking to continue to develop their networks, professional skills and industry knowledge
Alumni Biographies: 
Tarek Hamam, Legal Counsel, Immigration and Refugee Board of Canada – KEYNOTE SPEAKER
Tarek is a lawyer specializing in human rights advocacy, transitional justice, and international refugee law. He entered the Canadian public service through the Recruitment of Policy Leaders program, and serves as Legal Counsel with the Refugee Protection Division of the Immigration and Refugee Board of Canada. Tarek worked for the United Nations High Commissioner for Refugees (UNHCR) in Lebanon and Sudan, as a legal advisor with the United Nations Development Programme (UNDP) in Palestine, and taught courses on human rights and international humanitarian law at the AlQuds-Bard Honors College in Jerusalem and the Dheisheh refugee camp in Bethlehem. He has also volunteered with Lawyers for Human Rights in Johannesburg, South Africa and as a basketball coach for youth from underserved communities in Beirut, Lebanon.
Tarek received an Honours B.A. with high distinction from the University of Toronto, majoring in International Relations and Commerce. He went on to earn a J.D. from Osgoode Hall Law School at York University, where he was the recipient of the John Yaremko Q.C. Scholarship for academic excellence in the study of Human Rights, Civil Liberties, and the Rule of Law. More recently, Tarek graduated with distinction from the University of Oxford, where he obtained a Masters in International Human Rights Law. In 2017, Tarek was awarded the Said Foundation Alumni Achievement Award in recognition for his contribution to humanitarian efforts and capacity-building programmes in the Middle East. Away from work, he enjoys basketball, surfing, and backpacking.
Ella Aiaseh, Lawyer, Family Law, Hummingbird Lawyers LLP
Ella Aiaseh is a family law lawyer at Hummingbird Lawyers and works on a variety of family law cases, with a special focus on cases involving custody and access issues. Her legal work experience includes family law matters with some prior work on civil litigation, corporate, commercial and immigration files.
Ella completed her J.D. at the University of Ottawa, Faculty of Law (2013), and received her Honours Bachelors of Arts and Science from University of Toronto, double majoring in English Literature and Political Science, with a minor in Biology (2008). Ella is currently a member of the Ontario Bar Association, the Toronto Lawyer's Association, the Advocates' Society and the Iranian-Canadian Legal Professionals Association.
Ella has a deep appreciation for extra-curricular and community programs outside of work. Ella volunteered with Ontario Justice Education Network, working with grade-5 students and Afghan Women Organization for three separate mock-trial programs. She also has been volunteering with the Walsh Family Law Moot Court Competition annually and appeared as a committee member and a volunteer for Joy of Aging 2015 and 2016 fundraiser event for Mackenzie Health Foundation.
Ella enjoys reading classic works of literature, walking aimlessly in art galleries while discussing life-philosophies with eccentric, artistic friends, and watching Korean TV shows from time to time.
Gary Clewley, Barrister and Solicitor, Legal Professional Corporation
Gary R. Clewley, B.A., M.A., LL.B., is a Barrister and Solicitor in Toronto, Ontario, where he primarily practises in criminal defence and administrative law. Called to both the Ontario and State of New York Bars, he previously practised civil and criminal law in Manhattan, N.Y. and served in Toronto in the Crown Attorney's Office at the Ministry of the Attorney General. For the past 25 years, he has represented police officers throughout Ontario. He has also published a book called "Sentencing: The Practitioner's Guide." He articled at Osler, Hoskin and Harcourt LLP in Toronto.
Victoria Crewe-Nelson, VP, Underwriting & Customer Service and Secretary , Lawyers' Professional Indemnity Company (LAWPRO)
Victoria Crewe-Nelson joined the Lawyers' Professional Indemnity Company (LAWPRO) in 2012, and is now the Vice-President of Underwriting & Customer Service and Secretary for LAWPRO's Board.  Victoria was called to the Ontario bar in 2003 and during the course of her practice had the opportunity to work in a number of practice areas, including corporate/commercial, litigation, estates and trusts, real estate, and admiralty law.
Victoria obtained her degrees (B.A., LL.B.) through her studies at the universities of Toronto, Ottawa and Edinburgh.  A past instructor with the bar admission course, Victoria has been published on topics such as professional liability, the Limitations Act, class actions, family law, and parental responsibility.  As an underwriter for LAWPRO, Victoria focuses on law firm risk management, understanding the ways in which lawyers practise and emerging threats faced by lawyers, clients and the insurance industry. Victoria lives in Toronto with her husband and two children.  She has been involved with various non-profits, and is currently on the board for the Edinburgh University Club of Toronto.
Micahel Denyszyn, Manager, Registrant Conduct, Ontario Securities Commission
Michael Denyszyn is the Manger, Registrant Conduct int he Compliance and registrant Regulation Board of the Ontario Securities Commission (the OSC). Mike worked as a securities-focused litigator int he private sector in New York and Toronto before joining the OSC in 2008. Prior to becoming Manager, Mike represented OSC Staff in a variety of registrant conduct proceedings. Mike holds the degrees of Honors Bachelors of Arts (History) from U of T (9T8) and Juris Doctor from NYU (2001), and was involved in a number of extra-curricular activites at Vic.
Mike has presented on registration reform and registrant conduct issues on behalf of the Law Society of Ontario, the Ontario Bar Association and the OSC Registrant Outreach initiative. Other speaking engagement include the Canadian securities Administrators Compliance Conference, the REgistrant Regulation Conduct and Compliance Summit, the Securities Association of China and other regulatory and industry groups. Mike has twice presented as Prfoessor-for-a-Day at the Trulaske School of Business at the University of Missouri, and has participated in career panels and mentoring for the Backpack to Briefcase program. Mike is also the current Vice-Chair of the Board of Directors of the Elspeth Heyworth Centre for Women.
Christopher Ezrin, Counsel, Department of Justice / Government of Canada
I graduated with a degree in English Literature in 2000. I then went to law school at UBC. After graduating, I worked in criminal defence, then was in-house counsel at an industry regulator, and finally joined the Department of Justice in 2011. Most of my practice is in immigration law, and I have a particular interest in cases relating to national security and the Charter.
Ifrah Farah, 1st year law student, U of T
Ifrah is a first year law student at the University of Toronto. She completed her undergraduate degree at U of T with a major in Political Science and a double minor in anthropology and religion. In undergrad, Ifrah worked on projects related to diversity and inclusion such as internships at the the Multi-Faith Centre and the Centre for Women and Trans People at U of T. She also served as a Woodsworth College Director on the University of Toronto Students' Union.  Ifrah is currently an executive member of the Black Law Students' Association, a 1L representative in the Students' Law Society, and a JD ambassador at the law school.
Jessica Horwitz, International Trade, Customs and Regulatory Lawyer, Bennett Jones LLP
Jessica B. Horwitz is an international trade, customs and regulatory lawyer at Bennett Jones LLP. She advises Canadian and international clients on a broad range of trade and investment matters, including import/export compliance, customs audits, trade remedies, bilateral and regional free trade agreements, WTO law, anti-corruption compliance, controlled goods and technology, economic sanctions, product regulation, corporate social responsibility and other cross-border issues. Jessica represents clients in trade verifications by the Canada Border Services Agency, proceedings before the Canadian International Trade Tribunal and the Federal Courts, and regulatory investigations by the RCMP, CBSA and Global Affairs Canada. Jessica completed her articling at another Toronto Bay Street firm, Davies Ward Phillips & Vineberg. Before becoming a lawyer, Jessica worked in international policy analysis at the Center for Strategic and International Studies, a U.S. think-tank where she covered security and national defense, trade and economic issues in the Americas. She has a degree in International Relations from the Munk Centre for International Studies at the University of Toronto (now the Munk School of Global Affairs) was a student of University College, and has a Juris Doctor from the Queen's University Faculty of Law. She completed internships in Washington, D.C. and Santiago, Chile, and studied abroad at the National University of Singapore.
Vanessa Ibe, Partner Rsenbaum & Ibe LLP
Vanessa A. Ibe is a partner at the law firm Rosenbaum & Ibe LLP and practices in the areas of construction, corporate and commercial law, litigation, employment and real estate law. She represents individuals and businesses with respect to a wide range of matters including incorporation and corporate organization, corporate restructuring and reorganizations, dispute resolution and drafting and review of employment contracts and policies.
Vanessa obtained her Honours Bachelor of Arts from University of Toronto in 2008, completing a double major in Political Science and Commerce. She then obtained her law degree from the University of Windsor in 2012. While in law school, Vanessa received many scholarships and awards for academic achievement and advocacy.  Vanessa is actively engaged in community outreach and has spoken about a variety of topics at Toronto area high schools and community youth groups. She is a dedicated Toronto sports fan and can often be found cheering on the Blue Jays and the Raptors.
Ema Ibrakovic, 1L Student, Faculty of Law , University of Toronto
Ema Ibrakovic is currently a 1L student at the University of Toronto Faculty of Law. Prior to starting law school, Ema graduated from Victoria College studying Ethics, Society & Law, Political Science, and Philosophy.
At law school, Ema is involved as a representative on the Students' Law Society where she sits on the Gender, Accessibility, and Diversity and Mental Health & Wellness Dean's Committees. She is also involved as an executive on the Litigation Association and as a caseworker at the Advocates for Injured Workers legal clinic.
During her undergrad, Ema was President of the Ethics, Society & Law Students' Association. Her interest in law developed from her experience as the Undergraduate Mooting Director of the UofT Pre-Law Society. She also worked at and managed University College's student café, Diabolos' Coffee Bar. Ema has an interest in general litigation, and hopes to build a future career as a litigator in criminal, constitutional, and other areas of the law.
Samantha Kokonis, 1st year student, Faculty of Law, University of Toronto
Samantha Kokonis is a first year law student at the University of Toronto, where she has also completed a Master of Biotechnology and a BSc in genetics (Trinity College). In law school, Samantha volunteers with Pro Bono Students Canada on the TransID Clinic project and is an associate editor of the University of Toronto Faculty of Law Review. She also serves as the 1L representative for both the Technology and Intellectual Property Group and Out In Law.
Prior to law school, Samantha worked at the pharmaceutical company Hoffmann-La Roche Ltd. In her undergrad, she was elected as the Head of Arts at Trinity College during the 2015-2016 academic year. She also served as the President of RainbowTrin, and founded the Trinity Women in Leadership initiative. Samantha hopes to pursue her interest in intellectual property, particularly in the area of patent litigation.
Anthony MacKinnon, Crown Attorney, Ontario Ministry of The Attorney General
Tony MacKinnon studied political science and French at U of T (SMC), graduating in 1988. He then studied law at Queen's University. After articling with the Crown Tony was called to the bar in 1994 and commenced working as an Assistant Crown Attorney in Halton Region. In 2011 he was appointed the Crown Attorney for Halton. Since 2016 he has been a Director of Crown Operations, overseeing criminal prosecutions, staffing, and operations in a region of eight different Crowns Offices, and taking on leadership initiatives within the Ministry of the Attorney General. Over the years he has prosecuted all manner of criminal offences, from standard cases to the most complex and serious of matters. Tony has been actively involved in legal education, providing training to police and to lawyers as a Course Director at the Crown's Summer School and the Bar Admission Course. Out of the office, Tony is on the Board of Governors with St Jerome's University in Waterloo; a community assessor for McMaster Medical School Admissions, and a choir director in his community. And most importantly a proud father and lucky husband.
Christopher McGoey, Student-At-Law, Brauti Thorning
Christopher is an articling student in the civil litigation and insolvency and restructuring groups of Brauti Thorning LLP. He is a graduate of Osgoode Hall Law School and Victoria College at the University of Toronto.
At law school, Christopher was the recipient of numerous academic and mooting awards. He was the president of the Osgoode Hall Health Law Association and volunteered to work on high-profile litigation concerning the regulation of medical assistance in dying. Over the summer, he worked for the regulator of Ontario's Electronic Medical Record networks and systems. In his final year, Christopher frequently travelled to Ottawa to consult on the recently-enacted Accessible Canada Act.
Prior to law school, Christopher wrote for a men's fashion magazine and managed a large restaurant in Toronto's financial district (while attending undergraduate classes).
Christopher hopes to continue to pursue his interests in healthcare and technology in his law practice. He recently received an Insolvency Institute of Canada Writing Award for a cutting-edge paper analysing cryptocurrency exchanges.
Anthony Minna, Retired Lawyer, Former CEO of UBS Trustees (Cayman) Ltd.
Anthony J. Minna is a retired lawyer previously admitted to practice in New York and Ontario. He holds a history degree from the University of Toronto and law degrees from the University of Toronto and the University of Brussels. Anthony is the former CEO of UBS Trustees (Cayman) Ltd., and has worked in Canada, Liechtenstein, Switzerland, The Bahamas, and the Cayman Islands. He currently sits on the board of directors of Blue Pier, a pension plan administration company.
Eric Noble, General Counsel, Justice Canada
In undergrad, Eric majored in History and did his minors in Russian and French languages. He was enrolled in the combined M.A. and Diploma program at the Centre for Russian and East European Studies before completing his LLB at the University of Toronto. Since then he has worked for the Federal Department of Justice for 31 years mostly in the income tax litigation area. He has appeared numerous times in the Supreme Court of Canada including most recently on October 17, 2019, as well as in the Federal Courts, Tax Court of Canada, Ontario Court of Appeal and Ontario Superior Court of Justice.
Sona Noorzai, Regulated Canadian Immigration Consultant, Immigration Law Clerk at EY Law LLP
Sona is a Regulated Canadian Immigration Consultant. She currently works as an Immigration Law Clerk at EY Law LLP in the Tax -People Advisory Services group. She prepares and processes a wide array of Canadian immigration applications. Prior to joining EY Law LLP, Sona worked at a Toronto-based immigration law firm where she handled both Canadian and U.S immigration matters. She has experience in handling immigration matters for executives, managers, and professional employees of multinational corporations.
She completed her Honors Bachelors of Arts with Distinction from the University of Toronto in 2016 where she double majored in Criminology & Sociologeal studies and History. Most recently, Sona has successfully obtained a Certificate in Immigration: Laws, Policies and Procedures, University of British Columbia in 2018. During her personal time, Sona volunteers as amentor with Youth Assisting Youth.
Danielle Ridout, Associate Lawyer, Borden Ladner Gervais
Danielle Ridout is currently an associate in the Competition and Foreign Investment group at Borden Ladner Gervais LLP. Danielle graduated from the University of Toronto Faculty of Law in 2016, completing the joint JD/ Master of Global Affairs program, in tandem with the Munk School of Global Affairs. While at the Munk School of Global Affairs, Danielle had the opportunity to complete an internship at Harvard Law School's Berkman Klein Center, and also provided consulting advice to both Global Affairs Canada (in respect of increasing consumer engagement with government travel advisories) and NATO, providing analysis of social media engagement with NATO themes following the 2016 NATO Summit in Warsaw. Danielle completed her undergraduate studies at the University of Toronto Scarborough in the International Studies Co-op program. Danielle was also a member of the UTSC Basketball team throughout her time at UTSC, and was a captain of the University of Toronto Varsity Blues Fastpitch team (which she was a member of for nine years – go Blues!).
Zinejda Rita, Commercial Litigator, Rebecca Huang and Associates
Zinejda is a commercial litigator with Rebecca Huang and Associates, Barristers. Zinejda articled and served as counsel with the Ministry of the Attorney General. While at law school, Zinejda worked for the International Development Research Centre and as a legal researcher with the Society of Ontario Adjudicators and Regulators. She has contributed articles to theCourt.ca and the Property Lawyer Quarterly.
Prior to beginning her law practice, Zinejda worked for RBC Dominion Securities, the Ontario Legislature, served as Director of Policy and Regional Media and ran candidate recruitment for one of Ontario's political parties.
Zinejda holds a BA, Joint Specialist in History and Political Science, from the University of Toronto, an MA in International Relations from the Munk School for Global Affairs and a JD from Osgoode Hall Law School.
Zinejda serves as the Vice Chair of the Board of Directors of Newcomer Women's Services Toronto, volunteer mock adjudicator for the refugee hearing program at Matthew House and has worked as a case worker with Parkdale Community Legal Services, where she represented tenants before the Landlord and Tenant Board. She is a member of the Ontario Bar Association and Advocates' Society and is fluent in Italian, Albanian and French.
Doug Sarro, Adjunct Professor, Osgoode Hall Law School; Doctoral Candidate, University of Toronto Faculty of Law
Doug teaches business law at Osgoode Hall Law School and is completing a doctoral dissertation at U of T looking at how financial regulators adapt to disruptive fintech innovations. Before pursuing an academic career, Doug served as judicial clerk to the Chief Justice of Ontario; practised corporate law at Sullivan & Cromwell LLP in New York City, working on, among other matters, the AT&T-Time Warner and Kraft-Heinz mergers; and was Senior Advisor, Research and Regulatory Innovation, at the Ontario Securities Commission, which regulates Ontario's capital markets. Doug is admitted to practice law in Ontario and New York and holds the Chartered Financial Analyst designation. As a U of T undergrad (a frighteningly long time ago), Doug went to Victoria College and studied international relations and peace and conflict studies.
Michael Scott, Legal Counsel, Financial Services Regulatory Authority (FSRA)
Michael received his undergraduate degree in 2012 from the University of Toronto (International Relations/Peace and Conflict Studies, Economics). He completed a master's degree in economics at U of T (2013). He then studied public administration and attended law school at Queen's University (2016). Michael articled and practiced law with the Financial Services Commission of Ontario (FSCO) branch of the Ontario Ministry of the Attorney General. He now works as legal counsel with the Financial Services Regulatory Authority of Ontario (which replaced FSCO in June 2019). His practice focuses on regulatory enforcement and pensions litigation.
Jerome Poon-Ting, Senior Recruitment, Admissions and Diversity Outreach Officer, University of Toronto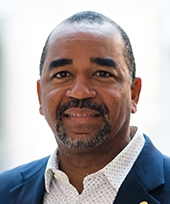 Jerome has spent over 20 years in student recruitment, admissions and exchanges spanning undergraduate, graduate and professional programs in Ontario at U of T, Queen's University and The Michener Institute for Applied Health Sciences. He is a former international student to Canada and holds a Bachelor's degree in Computing & Information Science from Queen's University.
For advancing diversity in law school admissions, Jerome sits on the JD admissions selection committee and is the lead on the administration of the annual Law School Access Program (LSAP) for pre-law students from low-income families, the annual UofT Cup undergraduate moot competition and the annual Future Black Lawyers undergraduate student conference.
Jeffrey Wang, 2L Student, Faculty of Law, University of Toronto
Jeffrey Wang and currently a 2L student at U of T Faculty of Law. He also attended the University of Toronto for his undergraduate degree in Criminology, Linguistics, and Psychology.
In law school, Jeffrey has participated in many hands-on opportunities. He volunteered at the Trans-ID clinic, helping gender-variant clients change their government IDs. In addition, he participated in the 1L Trial Advocacy and the 2L mooting opportunities. He is also a performer in U of T's Law Follies, an annual variety show. In his 1L summer, Jeffrey was a research assistant for Professor Lorraine Weinrib, investigating cutting-edge constitutional issues. Prior to law school, Jeffrey was heavily involved in the U of T theater community as a communications director for the Victoria College Drama Society. Additionally, he has been a U of T campus tour guide, barista, and an LSAT teacher.
Jeffrey is particularly interested in public law and litigation, and hopes to find a career in those fields
Alessandra Valitutti, Associate, McCarthy Tetrault
Alessandra Valitutti is an associate in our Real Property & Planning Group in Toronto. She maintains a general real property practice.
Alessandra has acted for multi-national developers, property managers, and pension funds in the past, both in house and at another major Canadian law firm.
While in law school Alessandra actively participated in student life, chairing the annual Law Ball ceremony as well as participating in Western Law's social and orientation committees. Prior to articling, Alessandra also began and ran her own freelance legal research company, providing drafting and research services on contract.
Alessandra obtained her Honors BA (with Distinction) majoring in Criminology and Ethics, Society and Law from the University of Toronto in 2013. She received her JD from Western Law in 2017. Alessandra was called to the bar in 2018. She is a member of the Law Society of Ontario, Canadian Bar Association, and the Ontario Bar Association.